After surviving a winter that seemed like it was never going to end, we've finally entered outdoor-party weather! Hands up who's ready for barbecues, lawn games, and alfresco dinners! But is your garden ready?
A well designed patio, garden or terrace is basically like adding square footage to your home. It should be an extension of your living space, and an area where you enjoy spending most of your time during the summer. It should be beautiful, inviting, and a great place to entertain. Although most outdoor make-overs are expensive, there are a lot of little tricks you can do to spruce things up a little. I mean, just look what a difference a little TLC and some simple gardening made to my own garden makeover!
This is what it looked like before…
And after just a little TLC and a DIY fence and patio area, it was already a great improvement:
And from this depressing sight (I cried on the day we moved in) :
To this:
Okay, so it's not perfect and by no means finished, but it goes to show that a lick of paint and some simple gardening can go a long way!
Just like the inside of your home, patios, terraces and gardens also benefit from seasonal spruce-ups, new furniture, cushions and other accessories like a rug, potted plants, maybe a parasol or barbecue or fire pit etc. But hey, while we're at it, why stop there? What about a DIY canopy or pergola with flowing curtains, or a built-in fire pit area, outdoor kitchen and pizza oven? And there are shoestring budget friendly ideas too – like making an outdoor cinema with a simple projector (£15) and a bed sheet.
So, while it's probably too late in the game to do a complete outdoor renovation, there are plenty of little things you can do to get your garden or patio in shape for friends, family, and fun.
Whatever the shape or size of your outdoor space, these fun ideas will help you take full advantage of warm weather.
1. Build your own canopy
It goes without saying that patios are a go-to spot for alfresco dining, but rain – or sometimes too much sun – can be a problem when entertaining outside. A simple DIY canopy offers a stylish covering, and creates a boho vibe.
You could even have the area completely covered so you can be outside, rain or shine. If the roof is made of beams, you could weave a weatherproof fabric through the beams to keep you dry – or out of the sun.
2. Create an outdoor cinema
Create your own backyard cinema with a projector and a sheet! Perfect for entertaining, and it can be achieved on a shoe-string budget. A projector is a great investment for any film-lover. Warm evening? String a sheet up between two trees and watch a movie while snuggling up under some blankets with a bag of microwave popcorn. Snap up this film projector for less than £15 (or a copper one for £22). Budget no opush the boat out an invest in a proper projector screen for £180.
3. Bring the indoors out
If it's looking to be a dry week, bring your living room outside! Snap up an outdoor rug, some outdoor cushions and a coffee table, and create a cosy seating area.
Set up your own bar station where you leave outdoor glassware and you'll thank yourself later!
For a more permanent solution, outdoor benches and a concrete or other form of weatherproof coffee table means you won't have to move things around and you can just leave them outside year round.
Why not add built-in storage to display potted plants, ornaments or outdoor glassware and serveware?
You could even accessorise with weatherproof floor lamps, framed pictures and mirrors. This arched window mirror is a favourite of mine and would suit any garden.
4. Create your own game
A DIY tic-tac-toe game is quick and easy to make, and can be a boredom buster on long hazy summer days.
Cut out # sign out of some paper and use the paper as a template to paint the pattern onto wood or stone. Then just paint the X's and O'x on some stones and leave to dry.
5. Hang up some curtains
Whether you have a generous patio or tiny terrace, curtains can make an outdoor space feel more cosy.
In a larger space, use them to section off an area – even keeping the curtains tied back can create the illusion of different spaces or areas.
If you're fortunate enough to have a large porch or patio, curtains can help to make it feel more inviting.
And in tiny spaces like city balconies, a curtain or even simple mosquito net can create a sense of privacy.
6. Build a fire pit
To create a focal point or point of interest in your outdoor space, a built-in fire pit or barbecue area not only provides heat and commands attention (like a fireplace would do in a sitting room), but is also resilient and will stand the test of time.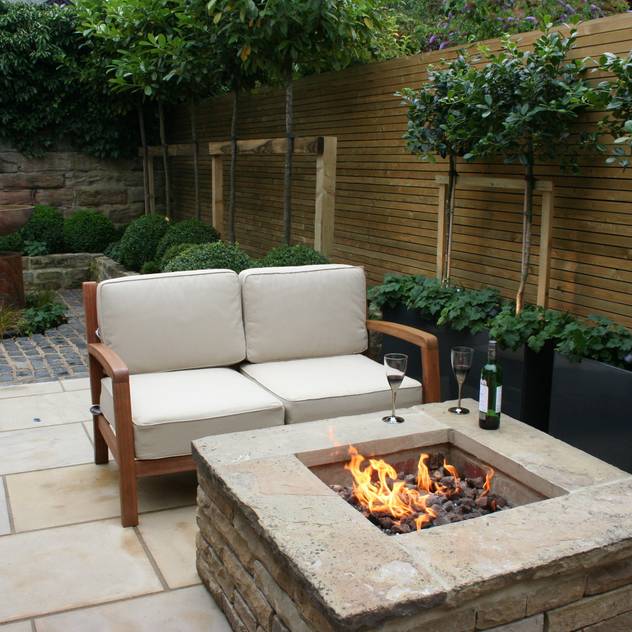 7. Transform your patio
Patio looking a little sad and unloved? Give it a complete refresh with Trex's Custom Curve decking. Break free from the traditional straight-and-narrow patio decking (and the kind that gets mouldy, slippery and gross), and invest in their CustomCurve™ which not only fits beautifully on curved or rounded patios, but is also resistant to fading, scratching and mold growth. So, unlike wooden decking, they won't rot, warp, crack or splinter, and offers an elegant finish requiring minimal maintenance – making it the optimal outdoor flooring for creating an enviable al fresco living space.
And, whereas a traditional timber deck would need to be stained and prepped ahead of winter, Trex is an ultra-low-maintenance option that requires no sanding or sealing. Just an occasional sweep, and a clean with soap and water is all that is needed. Oh, and it's eco-friendly too, and made from 95% recycled materials.
8. Create a kitchen bar
Does your kitchen have a window that opens into the garden? Use it to create an outdoor bar area where drinks and food can be passed straight through! All you need is a strong ledge and some bar seating.
Or, if budget isn't an issue, build an outdoor bar area on to the back of the kitchen, where the plumbing can be easily connected to the kitchen.
9. Build a pizza oven
With a wood fired pizza oven, you can host endless pizza nights! You could either go all out and have a proper one built in like this:
Or snap up this portable pizza oven for just £199:
10. Build a whole outdoor kitchen
No budget? Take your garden way beyond weekend BBQs and build an entertaining space that Gatsby would be jealous of. Outdoor kitchens are more than just an oversized grill on a patio. They can be fitted with fridges, stoves, pizza ovens and ice machines, and almost all are accompanied by seating and dining areas, too. Outdoor kitchens allow you to prepare meals and chat with your guests, without having to run back inside for plates, drinks or grilling utensils every other minute.